We carry several different Type of glass. Which one best fits your needs?
Shower Doors/Panels
These products are made with 8mm or 10mm Tempered Glass with a selection of hardware such as hinges and handles as well as options such as chrome or stainless steel products that are anti-rust.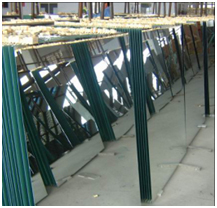 Mirrors
Mirrors are wonderful in helping a room look bigger or providing more light, or creating more appeal to the decor. We stock all types of available mirror in sheets of 3.2m x 2.2m, giving us the ability to produce mirrors for almost any application.
Double Glazing (INSULATED GLASS)
Clear Insulated Glass is also known as clear insulating glass/ clear double glazing glass/ clear IGU/ clear hollow glass. It is made of two or more clear tempered glass sheets or clear float glass sheets. The tempered clear insulated glass belongs to safety glass as the tempered glass' special performance.
Laminated glass
Increase your SAFETY – laminated and toughened glass. Laminated glass 2 or more sheets of glass laminated (glued) together with layer (clear, opaque or coloured) between them. If glass are broken the glass is held in place by laminate layer – suitable for Health and Safety requirements – used for security glass windows, partitions, various interior elements. Glass kitchen countertops recommended, thickness 10mm, 12mm, 15mm, 19mm
Although it will break or crack easier than toughened glass, it has a better security aspect as a much greater force is needed to break the plastic.
Toughened glass
the glass is raised to softening temperature (650?C) and is then cooled suddenly. Toughened glass is also a type of safety glass, five times stronger than normal glass.
Perfect for glass shelves, shower screens, partitions, table tops and balustrades Available in a wide range of thicknesses (4mm, 6mm, 8mm, 10mm, 12mm and 15mm). Toughened glass breaks into many small pieces when broken and usually never cracks.